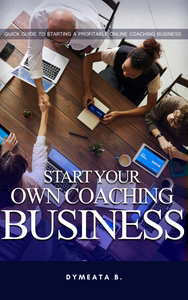 If you enjoy working with people and helping them reach their goals and potential, a home-based coaching business might be for you. One of the great advantages to coaching today is that technology has expanded our ability to provide coaching services. No longer are you limited to having an office where you meet people in person or a phone where you might miss subtle visual cues when helping others.

Dymeata shares exclusive tips on:
Essential Steps for a Successful Online Coaching Business
Effective Delivery of Online Coaching
Getting Clients for your Online Coaching Business
AND MUCH MORE!
With the purchase of THIS ebook, you receive a complimentary 30 minute coaching session. 
This E-book will be delivered immediately after purchase. Please be sure to enter your correct email at checkout.