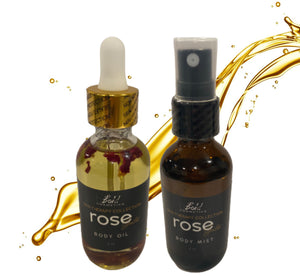 Rose Gold Body Mist
Infused with rose essential oils and a blend of other soft fragrances! 
Whether you are wearing this on your body, or spraying it on your pillow... this scent does not disappoint! Immerse yourself with this beautiful fragrance and enjoy the long lasting scent all day! A perfect scent for date nights!
Rose Gold Body Oil
Our ALL natural, handmade, plant based, moisturizing "Rose Gold Body Oil" is packed with natural ingredients in moisturizing serums. This Plant based hydrated formula is infused with fresh roses. Grapeseed & Avocado oil that speeds up the healing of scars, sunburns or wounds. Vitamin E to enchance your youth by treating fine lines, minimizing and preventing the look of scars.  GREAT FOR SENSITIVE SKIN!