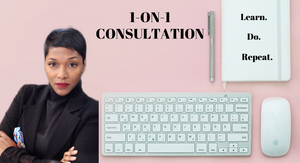 Are you frustrated in your business?
Are you lost, but eager to learn how to generate more income in your business?
Or perhaps you lack direction & knowledge on how to impact and attract customers that will make them trust you. If this sounds familiar, I'm ready to help walk you through.

Book Your 1:1 Strategy Session 

Sis, success is not only about money, but it's also about creating healthy processes, practices and having a strategy to making it over & over again. In your Strategy Session with me, you will be able to interact with me via Zoom webinar for a minimum of one hour per session and receive personalized coaching and feedback to help with any challenges, problems, or goals you want to achieve regarding business brand development or life coaching. Once you sign up, you will receive an email from me with more details to get started. 

Let's get to Work!